Thursday 26 January 2023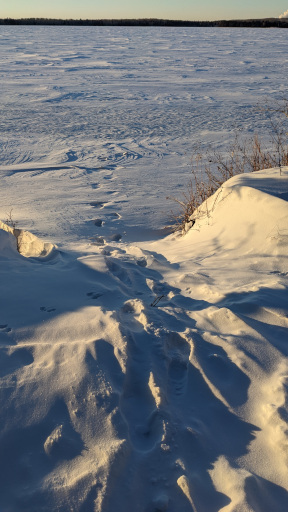 So Many Steps To Take,
To Preserve Creation
For The Next Generations!
Psalms 4:7-8
You have put gladness in my heart more than when their grain and wine abound. I will both lie down and sleep in peace; for you alone, O Lord, make me lie down in safety.
Romans 14:17
For the kingdom of God is not food and drink but righteousness and peace and joy in the Holy Spirit.
Words of Grace For Today
Former Calgary mayor, Naheed Nenshi, in his November 2022 'In Defence of Democracy' speech for the Samara Centre for Democracy's at the Toronto Public Library outlined five simultaneous crises that we face, which threaten more than just democracy, but also democracy:
https://www.cbc.ca/radio/ideas/keep-fighting-to-build-strong-communities-naheed-nenshi-1.6679094
Public Health, which the pandemic showed us all too clearly is broken so badly and so unfairly and so unjustly.
Mental Health, which is buried, hidden and denied, yet officially effects 1 of 4, and realistically is a crisis for every single one of us at some time in our lives.
Economic Injustice, which is fuelled by systems that we rely on, which as much as slavery did[does] needs to mistreat so many people in order to keep our societies functioning.
Environmental Crisis, which has shown us that we've used up most of our 'carbon budget', climate is changing in years (changes that used to take millennia), and change cannot come soon enough, though the wrong changes will leave us worse off than we are now and will be otherwise.
Inequity, which is the fundamental crisis underlying all the others, so that while some live opulent lives now, most of us live in the dregs of their leftovers, and the gap between the haves and have-nots is getting wider, faster than ever before.
Of course, in the past year we must add a sixth crisis, that of inflation and the rising cost of borrowing money, of paying for housing, of buying groceries and gasoline and everything else that is basic to life as we live it.
…
These crises are familiar to anyone who has not been 'asleep at the wheel!'
Nenshi provides illustrations: from an immigration system that promises educated, certified, even practising professionals entry to Canada, where we then deny them the right to exercise their professions and instead relegate them to hard, manual labour like long-term care work, or the new driver's lecture for youth of colour that concludes: always keep your wallet out and visible so that if/when you are stopped you do not need to reach for it, do as you are told, and do not resist: do not let being pulled over be the last thing you do!
So what are we to do?
Nenshi offered three ways to get to an anti-racist culture: empathy, sacrificial service, and love.
Nothing new there either.
So if we've know and practised these things, while we may not have made any progress, we know personally and communally that the kingdom of God is not food and drink but righteousness and peace and joy in the Holy Spirit.
That God has put gladness in our hearts more than when grain and wine abound. Therefore we will both lie down and sleep in peace; for you alone, O Lord, make us lie down in safety.
Yet, there is so much that God's good creation needs from us still, while we still have breath, before it is too late!
'Work with us, again this day, God!' we pray
'Bring gladness to our hearts once again.'