That's how the Light gets in.
Thursday, September 21, 2023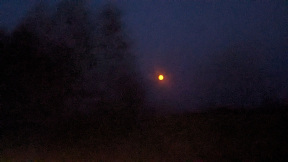 The Light Is Gold,
The Light Is Distant,
The View Mottled.
How Does the Light Reach Us?
Zephaniah 3:7
I said, 'Surely the city will fear me, it will accept correction; it will not lose sight of all that I have brought upon it.' But they were the more eager to make all their deeds corrupt.
Luke 19:45-46
Then he entered the temple and began to drive out those who were selling things there; and he said, 'It is written, "My house shall be a house of prayer"; but you have made it a den of robbers.'
…
Words of Grace For Today
In all our efforts to have a 'good' life, we most of all deny that we have screwed up life tremendously.
We try to pretend that it's just a little problem, that we did something 'not quite right.' When in fact the result is a crack in the foundation of our lives that tears more than the curtain in the temple. It tears apart our own hearts, minds, and souls.
Whenever God gives us 'temples' and 'houses of prayer' we turn them into 'dens of robbers' in so many ways, so many same old, same old ways, that people have used since the beginning of time, all trying to make our own way in life and make it better than it was. The more God gives us the more eager we are to make all our deeds corrupt, trying to cover up our latest corrupt deeds.
What does God do with us, then?!
God uses exactly those cracks in the foundation of our lives to shine the Light of Christ into the foundations of our lives,
to revive us.
God never repairs the cracks, as if they never were. The wounds heal, though the cracks remain, so that the Light can continue to shine in on us
so that we can live and breathe in the Light
even as we turn yet to more corrupt deeds,
also this day.
By God's Grace alone, though we can breathe.
Breathe,
and bask in the Light,
and give God thanks,
and trust the call to go out to share the Light with all people.