Rock
Sunday, March 19, 2023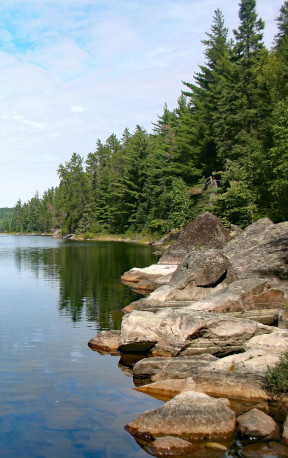 Rocky Shores,
Rocky Lives,
Rock of Salvation
First Samuel 2:2
There is no Holy One like the Lord, no one besides you; there is no Rock like our God.
1 Peter 1:15
Instead, as he who called you is holy, be holy yourselves in all your conduct;
Words of Grace For Today
It was just a four day outing into the Boundary Water Canoe Area. The first day the sun shone bright and warm, the winds were light and mostly at their backs. Camp that first night was everything they'd dreamed of for their honeymoon. What neither could know was that it would all dramatically change soon enough.
Brent and Nellie had this planned since they were seniors in High School. During University they'd continued to date, except for those few months when they'd fought and broken up and tried to imagine life without each other.
It was the last thing each had wanted, but in their chemistry class the professor had assigned them to work together on a lab and demonstration to teach the complex events of nuclear fission compared to nuclear fusion. It had nearly cost them their sanity as they tried to work on the project without being anywhere near each other. It was that fusion part that had, ironically, brought them together to film their presentation to a class of High School students and their parents.
After they got over their awkwardness and moved into the presentation everything started to flow, like it had for them before. Then the slide presentation simply quit. The computer died. So without missing a beat they started to really click and work together, one talking while the other drew on the presentation paper they had for ready to record questions on, then switching roles as each led with their strengths. That paper and their voices were their only presentation medium. Like a dance couple they had pulled it off with grace, and in fact their impromptu final demonstration of fusion, a completely unplanned kiss, drew applause … and their chem prof used the video of their presentation as a demonstration for their class and for years afterwards of what an A+ presentation looked like!
That kiss rocked their worlds, providing balm for so many hurts.
Within days they both knew from their own experience so much more about God, their Rock and Salvation, than ever before … most of it was about mercy and forgiveness.
That's God's holiness in motion, even for us today.
So what will we do with it, again this day?