God's Gift
Thursday, May 25, 2023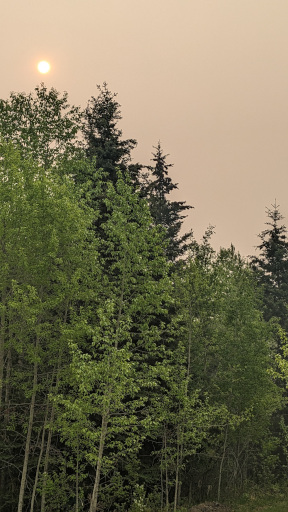 When the Sun Don't Shine
But a Tinge
of Orange
All Around,
Then What?
Micah 5:1-2
Now you are walled around with a wall; siege is laid against us; with a rod they strike the ruler of Israel upon the cheek. But you, O Bethlehem of Ephrathah, who are one of the little clans of Judah, from you shall come forth for me one who is to rule in Israel, whose origin is from of old, from ancient days.
1 Timothy 3:16
Without any doubt, the mystery of our religion is great: He was revealed in flesh, vindicated in spirit, seen by angels, proclaimed among Gentiles, believed in throughout the world, taken up in glory.
Words of Grace For Today
In times of trouble, in desperate times when all hope is drowned by the fires of time eroding like tsunamis burning the coastlands of all inhabitants and buildings, when our lungs burn with the smoke of fires about to consume us, when our feet are already soaked by the waters that will drown us, when the earth continues to shake after all our buildings are rubble, after missiles still explode with more arriving though there are no more cities left on earth, when life withers away, when love grows cold, where all laughter is lost …
Then what ARE we to do?
God knows these times will come in every generation.
God knew we needed more than what we could see or know or demonstrate to be true.
So
God gives us faith,
Faith in the saviour who will rise from the least of us all, a saviour who speaks not to the realities that we cannot change (for conquering enemies or oppressive rulers only makes way for other enemies and other cruel rulers).
No, God gives us a saviour who lives as one of us, teaching, healing, and showing us how to live lives of peace, joy, hope, grace, and love … even as the evil of the world swirls around us.
Jesus lived.
Jesus lives.
By faith we can live as well, even in these days.