Breathe In
And Take Share in Adam's Atoms Yet Again.
Friday, September 8, 2023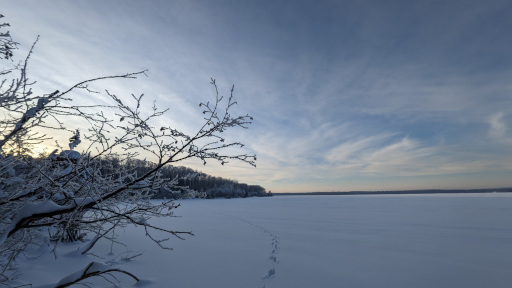 We Walk Short Distances,
But the Atoms from Our Breath Circle the Globe,
in a year.
Isaiah 26:19
Your dead shall live, their corpses shall rise. O dwellers in the dust, awake and sing for joy! For your dew is a radiant dew, and the earth will give birth to those long dead.
Hebrews 12:1
Therefore, since we are surrounded by so great a cloud of witnesses, let us also lay aside every weight and the sin that clings so closely, and let us run with perseverance the race that is set before us,
…
Words of Grace For Today
When we breathe in we breathe in atoms that have been breathed in by all creatures who breathe up to about a year before we breathe. When we breathe out, in little more than a year, our expelled atoms will be breathed in by every living creature that breathes in air.
That's a connection.
That's a significant reliance.
That's a dependency.
That's … scary, considering what we are doing to the air around planet earth!
When we realize that the atoms we breathe in integrate into the bodies we are, which when we die decay back into the earth (one way or another), it is not difficult to acknowledge that when any new life is born or hatched or otherwise begun, it contains part of all who have gone before. So out of the dead rises new life, just not quite like themselves, usually.
This happens almost no matter what we do. Cremation or burial both lead to the same thing, just in different ways on different timelines. If we shipped our body off in a spaceship towards some distant galaxy, only then would our atoms not reenter the life stream on earth.
Laying aside every weight and the sin that clings so closely, as the writer of Hebrews admonishes us to do, is on the opposite end of possible for us; it's impossible on our own.
This we can only appear to do as the Holy Spirit accomplishes it for us. So we 'run with perseverance the race' before us, knowing that even putting one foot in front of the other is a gift from the Holy Spirit. Our place in the race is a rather humble one; God runs us for us.
For that we can be thankful this day, again.
Of course, we always have the choice to stop running. God does leave us freewill. Stopping God's walking us is something to avoid each day.
But we don't avoid it, not at all, not at all. So God needs to rescue us many times each day.
Thank God, God does rescue us; also this day, again, and again, and again.