On Call?
Saturday, July 15, 2023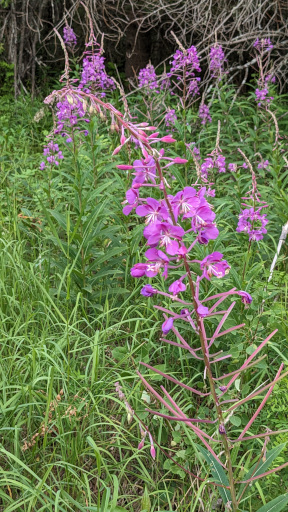 The Weeds Produce Beauty, Without Our Intervention or Work.
God's Greatest Miracles Require Lots of Our Work!
Genesis 31:42
If the God of my father, the God of Abraham and the Fear of Isaac, had not been on my side, surely now you would have sent me away empty-handed. God saw my affliction and the labour of my hands, and rebuked you last night.
1 Corinthians 15:58
Therefore, my beloved, be steadfast, immovable, always excelling in the work of the Lord, because you know that in the Lord your labour is not in vain.
Words of Grace For Today
Work, in vain or not, there is always plenty of it for us sinner-saints, working in the church (the hospital for sinners) and without (the hospital for everyone.)
The Missionary Picnics
When I was young we went to the Lutheran missionary picnic each summer in Como Lake Park in St. Paul, Minnesota. We went because my father had heard a presentation when he was a teenager about how the Lutheran Church needed medical missionaries. So he went to medical school, did his residency and applied. They took a year to figure out what to do with him. By the time they figured out to send him to Tanganyika I was born and then one younger sister. Four years late we returned, my father deathly ill or we would have stayed. So each summer our family packed up for the picnic.
Attending were just us 11 kids, 2 parents, and between 20 to 30 other smaller families. Everyone brought their own plates, cups, silverware, food to share in pots, water melon to cut, and drinks. For our family the drink was always 2 or 3 A&W root beer in 1 gallon glass jugs, which we poured into cups held in one hand, by holding the jug with your index finger on the other hand in the round handle just big enough for one finger, flipping the jug around to support the body of the jug in the crook of your elbow.
There were prayers and singing, and always lots of stories to share of the missionaries still in the field, and from missionaries on furlough, and families like ours having returned years ago. And then finally a knife would slice the watermelon and we kids would have spitting contests to see who could spit a seed the furthest.
Afterwards we collected all the garbage (there wasn't that much since there were no disposable dishes or silverware or cups), and all us kids were sent with small bags around the whole area to pick up garbage, leaving it cleaner than when we arrived. We didn't bother with the watermelon seeds and I never saw watermelon growing there the following years.
This in Como Park, along the lake, with the picnic tables under tin roofs, plenty of garbage cans for clean up, washrooms sufficient, the golf course across road, and the fair grounds and the zoo a bit further away through the tree covered residential areas.
On August 6 we will read from Matthew 14 how Jesus and the disciples go into the wilderness. To be alone. No picnic tables. No facilities. No golf course. No houses nearby. No zoo, no fairgrounds.
But 5000 men and more women and children arrive. Jesus went to be alone to grieve John's death at the hands of Herod. Yet Jesus has compassion on the huge crowd. Jesus heals their illnesses. (In Mark Jesus teaches them. In Luke Jesus does both!)
Then the disciples note that the people are hungry. Their solution is to have Jesus send them to the nearest towns. Let the imperial economy deal with them.
Jesus, instead, puts the 12 disciples to work. Handing out meagre rations that … turn out to be more than plenty! Afterwards on call again, this time for clean up, the disciples collect up 12 baskets of leftovers, one for each disciple. Lots of work handing out food to 5000 men and more women and children!
Imagine that for us today! If we can?
The other feast
Herod, in Matthew just before Jesus miraculous feeding of more than 5000, holds a feast to celebrate his own birthday. What a difference!
Herod fears the crowd (v. 5) and what his guests might think of him if he goes back on his word (v. 9). Jesus has compassion and cares for the crowd (v. 14), even though they had interrupted his desire to be alone, probably to grieve the death of John (13a).
Herod is tricked into putting John to death (v. 10). Jesus provides life by curing the sick (v. 14) and feeding the hungry (v. 19).
Boring (Matthew, New Interpreters Bible) states that these two stories are a "contrast between the two kingdoms" [p. 323]. Carter (Matthew and the Margins) goes further and states:
"Jesus' act attacks the injustice of the sinful imperial system which ensures that the urban elite are well fed at the expense of the poor (Aristides, Roman Oration 11; Tacitus, Ann 2.33; 3.53-54). Jesus enacts an alternative system marked by compassion, sufficiency and shared resources." [p. 305]
Lots of the ideas are from Stoffregen Matthew 14.13-21 Proper 13 – Year A at http://www.crossmarks.com/brian/matt14x13.htm
What does God have for us today? Receiving the benefits of a few miracles? Or have we already received those and God will call on us to be on duty, to feed the hungry and clean up afterwards?
The bottom line is truth: "Divine miracles can require a lot of human work."