You better bet your little … until …
Thursday 16 February 2023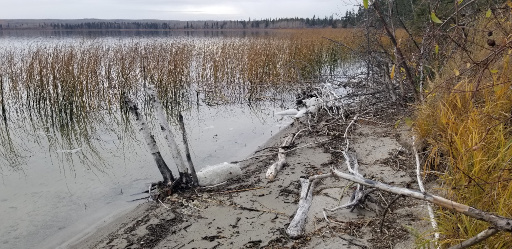 The Waters Now Calm,
Without Warning,
Can Churn
and Consume all Creation into Themselves.
Jonah 2:1-2
Then Jonah prayed to the Lord his God from the belly of the fish, saying, 'I called to the Lord out of my distress, and he answered me; out of the belly of Sheol I cried, and you heard my voice.
Luke 12:7
But even the hairs of your head are all counted. Do not be afraid; you are of more value than many sparrows.
Words of Grace For Today
I don't know about you but if I were thrown overboard by a fearful ship's crew, who saw me as the cause of a storm that threatened to take their ship to the bottom (where the people of that time understood it was the primordial chaos of precreation void!), and I ended up getting eaten whole by a huge fish, I might have good cause to be a tad frightened. Okay, let's be honest I'd be in a full out panic once or twice over.
I'm not so sure I'd have time to pray in any coherent manner.
Life for the common folk in Jesus' day was no different in analogous ways, tossed 'overboard' by the ruling foreigners, or by the religious lackies, and then 'swallowed up whole' in the morass of being poor, where nobody cared for the poor, except what could be gotten out of them to make the rich and ruling classes more comfortable in their exquisite lifestyles.
Life for most people today is really still the same.
So how are we not to be filled with fear? At any moment life can be torn from us for no good reason other than we are in some rich or powerful person's way.
That can happen in a blink of an eye, getting pummeled in any number of ways by bullies (that hide even as respectable people), being pulled over by a cop, or falsely accused by a woman (who in this 'me-too' attitude is always to be believed – unfortunately the truth is some of what women have suffered more than deserves getting brought into the spotlight and dealt with. But the lies do not deserve the same blind acceptance as truth. Not ever, no matter who tells the lies!) or slowly ruined by jealous others who wish not to see one's success for against it they measure themselves as utter failures (which they are, worse than they imagine!)
So how can we not be afraid?
God has 'counted the hairs on our heads' since before we knew how to remember from generation to many generations later with writing.
Of course, it has to do with today. Does God counting our hairs do any good for us? It is less a question about our hair, without which we can live. It has to do with whether God walks with us, carries us when we falter, and revives our hearts when they have succumbed to the chaos and evil of life all around.
And to answer whether or not God does that, God sent Jesus, whose story makes clear that God treasures us, each and every one of us.
So take that, you agents of evil who would try to teach us poor masses that we do not count. God has taught us to dance, even as we count, 1,2,3; 1,2,3; … in celebration for life renewed … by grace alone.