Gimme
More Money, More Money.
Saturday, September 30, 2023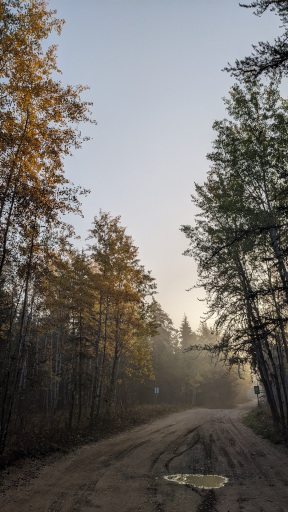 One Of The Pathways In The Woods,
One Must Traverse
To Knock On My 'Door'.
Proverbs 15:16
Better is a little with the fear of the Lord than great treasure and trouble with it.
Hebrews 13:5
Keep your lives free from the love of money, and be content with what you have; for he has said, 'I will never leave you or forsake you.'
…
Words of Grace For Today
A person came knocking on my door today. Not that it's really a door, although at one point, before someone had it replaced it stood for a door, with a sliding window, probably a screen (though there's no sign of what happened to it), even having been scratched by a dog to get out. But now it's mounted on a wood shipping pallet, at 90⁰ to another door which stands in for a wall, stabilizing this 'door', with a shipping pallet on the other side, also at 90⁰ for stability. Insulated tarps are taped and stapled around the door, for those are the real walls of this place that is as much as anything that I have to call home. I live in the woods, under lots of tarps or all kinds, wood pallets as floors and walls, and no connection to the electric grid, or natural gas, or TV, or even a proper driveway. It's just a string of pathways through the woods to get here.
She came knocking, wanting a donation for the poor. How she managed to find this place is beyond me. How she could not notice that this is how a person below poor is struggling to live, not by choice, but by necessity to survive.
I told her I would appreciate a donation for the poor, me, if that could be possible.
She laughed, and said we are all struggling.
I guess she really did not understand what she saw or heard.
…
A person came knocking on my neighbour's door. How she found the door I'm not sure, because there is fence all around the property and an electric gate that is kept locked that the drive passes through. It's not even got a 'man' gate for a person to go through. My neighbour has the best car and truck, and mower, and snow clearing tractor (a skid steer on tracks) that are all kept in proper garages for each.
She told me he said he was struggling and did not have any donations for the poor. He had to pay for 3 months in rehab for his son, a drug addict from too little responsibility, too much money, and not enough necessity to work to make a living … and too much playing with his 'friends', the addicts that he started hanging with in school because he was bored.
…
A person will come knocking on your door, asking for a donation for the poor. How will you respond?
…
She really is just asking for money for herself. She's convinced that being a multimillionaire is not enough, that she is poor, that she needs help, with groceries costing more and all now. She's even had to cut back on her vacation trips. She can only manage 6 each year. She used to go somewhere every month, either for work or play; but both are really just play. The work trips just have a few hours of meetings during them.
So how should one respond?
With pity, condemnation, confrontation, or anger?
Money represents and provides one the ability to exercise one's will, first to survive, then to excel in luxury and comforts. The problem is once one exercises one's will for luxuries and comforts there is never enough money to keep up with one's thirst for more.
Better to make due with little, than be cursed with so much one always needs yet more.