Blame God!
Or?
Tuesday, October 31, 2023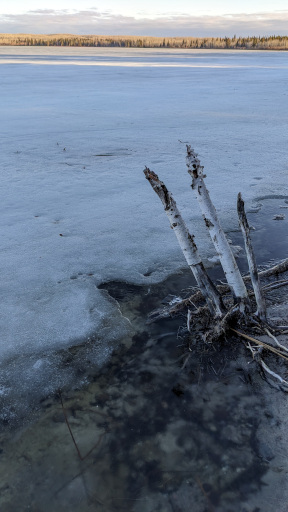 It Must Be God's Fault,
All the Dead Trees in Threes,
And Ice In Our Way,
And Dirt In the Sand,
Right?!
Isaiah 64:5
You meet those who gladly do right, those who remember you in your ways. But you were angry, and we sinned; because you hid yourself we transgressed.
Luke 15:21-22
Then the son said to him, "Father, I have sinned against heaven and before you; I am no longer worthy to be called your son." But the father said to his slaves, "Quickly, bring out a robe—the best one—and put it on him; put a ring on his finger and sandals on his feet.
…
Words of Grace For Today
It is all too easy to blame someone else for what we do wrong. Why not blame God for everything that we do wrong and all that is wrong, when we are at it?
Well, because it is not the truth.
And it obscures our ability to see God's abundant mercy and generous gifts that we receive, leaving us in the eternal darkness where the Evil One plays havoc with everyone and everything.
Confession, even made late after so much of life is wasted in the dark playground of the Devil, is God's gift to us, a ticket to freedom to live in the Light again.
We tell stories of God's forgiveness of the most grievous sinners, as Jesus told the parable of the great sinner son, who finally comes to his senses and returns home to his father, from whom he has taken his inheritance and squandered it on wasteful living, begging (for he has no rights left at all, not at all) to work for his father as a servant.
The father's response is exactly what God's is for all us great sinners who return begging God for mercy and the freedom to serve in God's farm yards, lest we have only the pigs' feed to keep us from starving.
God is gracious and merciful, abounding in steadfast love …
most evident when we are everything but.