Saturday 19 November 2022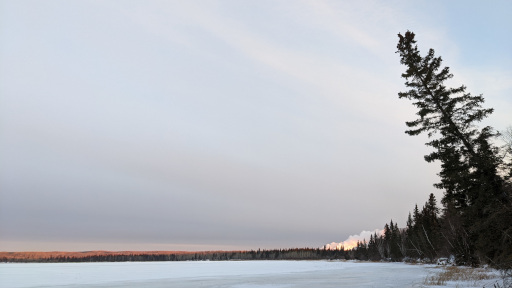 A sunrise of clouds, ice, and trees.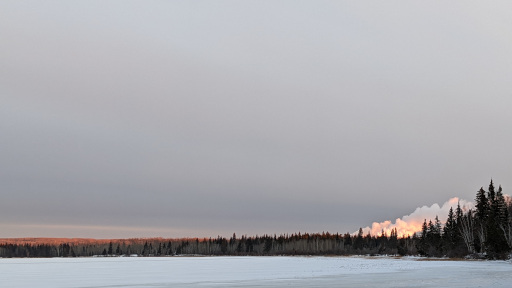 A sunrise of clouds, ice, trees, and ?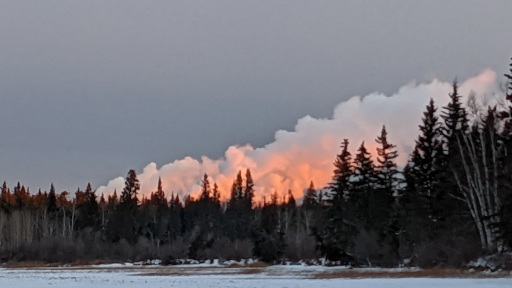 A sunrise of clouds, trees, and smoke! From an oil production plant.
Time to look closely at what we do,
and others do on our behalf,
before it's too late.
Opps, too late!
Isaiah 62:11
The Lord has proclaimed to the end of the earth: Say to daughter Zion, 'See, your salvation comes; his reward is with him, and his recompense before him.'
1 Peter 1:3
Blessed be the God and Father of our Lord Jesus Christ! By his great mercy he has given us a new birth into a living hope through the resurrection of Jesus Christ from the dead.
Words of Grace For Today
Your salvation comes.
The Hebrew word for salvation in Isaiah is yishek, in German it's translated as heil, as in health, well-being, and in Heil Hitler (a corruption of the use, meaning as it were 'long live Hitler', or so.)
So our health comes, our well-being comes, our salvation from all that ails us comes.
Not a bad start to any day.
Yet yesterday started like this, too. And every day before it since our births. Yet we are still in the same predicaments as before, perhaps the colour of the tone has migrated a bit as the seasons come and go, as the sun rises and sets, as the years accumulate and age takes it's toll and we watch more and more friends and not-so-friends succumb and die.
So what is our well-being anyway, if it is the same as it has always been?
…
CBC's Front Burner on 16 November 2022 ran a piece on the UN's announcement. The daily newsletter summed it up this way:
The impact of 8 billion people on the planet
On Tuesday, the human population reached eight billion people, according to an estimate by the United Nations. While population growth has slowed in recent years, it still took about a decade to add the last billion people
Meanwhile, humankind is continuing to do irreparable harm to the planet, including climate change, accelerated species extinction and ecosystem collapse. We're also straining the planet's ability to sustain this many people, as revealed by water scarcity for billions of people — all while people in more affluent countries are responsible for far more than their fair share of the harm.
Today we're joined by Céline Delacroix, adjunct professor at the University of Ottawa's School of Health Sciences and the Director of the FP/Earth project with the Population Institute, to discuss how it got to this point, what it means for people and the planet and where we go from here.
There's a lot of us, most struggling to survive.
In the 1970's already we were warned of the doom of overpopulation. Then it was that we could not produce enough food for more than the then 3.7 to 4.3 billion people (1970 and 1979 respectively) on earth.
We developed new food production techniques, and, as then, we produce enough food, but we do not distribute it where it is needed. People starve every day, while food goes to waste.
So how is it that our salvation, our health, our well-being has arrived!?
We are left to hope, and hope, and hope, and work like mad, because the bleak future does not promise much, especially not extrapolated out from the past 50 years.
How do we climb out of bed, with all this doom and gloom and failure and threat to our freedoms (when fears multiply dictators rise to take control and people let them), and to all life on earth?
Thank God for Jesus, the Christ.
Our Saviour is not like most would expect, able to change the ways of the world and put things right despite so many people's selfish efforts to grab what they can from the 'ship, planet earth, as it goes down.'
Instead Jesus works as God does, through weakness, sacrifice, and love, giving his life on the cross to offer us hope, so that in our baptisms into Christ we receive a great many gifts, greatest of them is hope. And it is not any old hope.
We receive a new birth into a living hope. And that hope is not dependent on us. It is God's doing, God's gift, and our strength and motivation to live and work hard.
That's got to be good enough for today, because
we need to hope and work like mad, to make things turn around. Projections show an increase in population by 2050 of 9.8 billion and 11.2 billion by 2100. The projections don't forecast a levelling of population until 2100. There's work to be done, and it will not be done if there is no hope to motivate us, not only to move towards a decrease in world population, but a reversal of climate change, species extinction, and ecosystem destruction.
Just a few 'small' tasks are on our plates.
Time to stop ignoring them?
Whaddayathink?