Friday 23 December 2022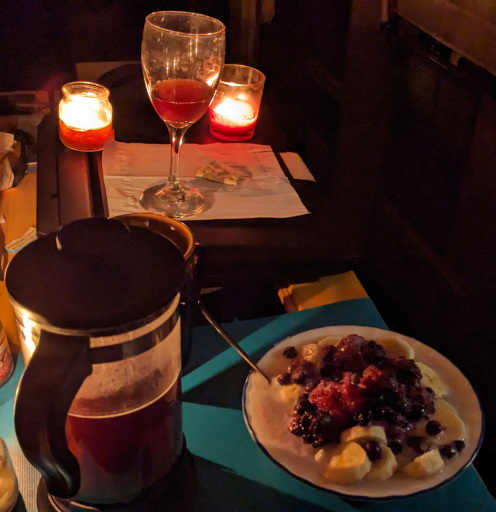 Even at -39⁰ the morning
starts
again
with
Eucharist
&
breakfast.
Psalms 21:13
Be exalted, O Lord, in your strength! We will sing and praise your power.
1 Timothy 3:16
Without any doubt, the mystery of our religion is great: He was revealed in flesh, vindicated in spirit, seen by angels, proclaimed among Gentiles, believed in throughout the world, taken up in glory.
Words of Grace For Today
There are stories that are just too unbelievable to be made up. My ex, a bunch of women, the cops, and the courts gave me such a story. If I had not been so lied about I would never believe what happened, being kicked out of apartments for no good reason except someone was trying to frame me, being arrested, tried, convicted and sent to prison for crimes that never happened (yet alone were committed by me!), and financially sent into debt so far I'll never see my way clear in this lifetime.
That's the evil done to me.
Then there is the rest of the story, of people quietly acknowledging what they saw happening as corrupt and unjust, of life criminals going out of their way to protect me from real harm in jail (while guards and other inmates certainly sought to kill me – without getting caught), of opportunities and circumstances that provided me enough to survive on, and the skills to better and better protect myself from the elements and the ever-present criminals, … and from the on-going lies others tell about me which are then used in court over and over again, even though anyone with half a mind knows what is said are lies, yet again.
And the mystery, not that I can survive in spite of it all, which is substantial enough, but that God has blessed me, walked with me in very visible, tangible and life-giving ways, and protected me from all harm that would do me in.
Jesus' story is like that, too. Every story of God making things happen in spite of evil people working to 'get ahead' is like that, too.
There are countless stories like mine. People are dealt with unjustly by people intentionally doing evil. And God providing a better life for them in the midst of all that evil.
Makes one stop and contemplate, how Advent calls bring us to prepare, and Xmas culture lays great expectations on us, and yet God reaches into our lives and brings to us each Christmas (in spite of all the things we do to avoid noticing God at work) the wonder and awe of God being everything for us, even as a young infant child born in poverty.
Thank God for that, again.
And again this day, we stop to wonder in awe, and give God thanks for the simplest things that show us God walks with us.