Thursday 5 January 2023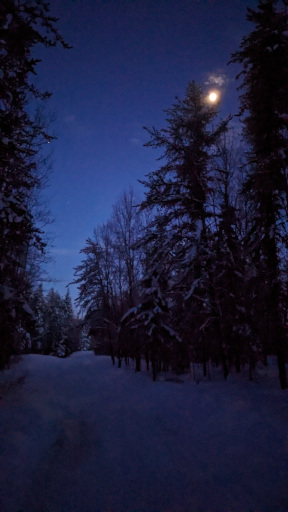 God's Blessings Give Life It's Fullness,
Even in Our Darkest Times,
as the Moon Brightens Our Night.
Psalms 71:17
O God, from my youth you have taught me, and I still proclaim your wondrous deeds.
Luke 2:29-31
Simeon said: Master, now you are dismissing your servant in peace, according to your word; for my eyes have seen your salvation, which you have prepared in the presence of all peoples….
Words of Grace For Today
Living to the fullest may mean hard partying, drinking, drugs, and sex for some. Or working hard to make so much money one cannot spend it all and playing even harder trying to spend it. Or just about everything under the sun in the extreme to the extreme.
All that as if one's actions, accomplishments and record were worth something at all, when measure by the one measure that counts at all, God's measure, our human actions, accomplishments and record are worth next nothing, especially compared to what God does, accomplishes and establishes through us and without us.
The fullest life we can live is to continually, humbly, give God thanks and praise.
Living life to it's fullest in this way we can be ready to greet our death as Simeon did, with thanks and praise for all God's gifts, especially the gift of God's Son living as one of us, God's communication to us that is so clear we can tell the story over and over again and marvel at God's Grace and Love for us all.