Saturday 7 January 2023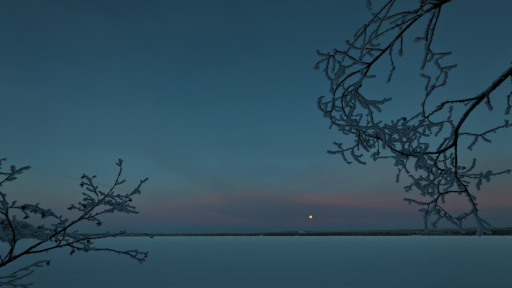 The Quiet Morning Moonset
Over the Fishers' Ice
Psalms 113:3
From the rising of the sun to its setting the name of the Lord is to be praised.
Romans 15:5-6
May the God of steadfastness and encouragement grant you to live in harmony with one another, in accordance with Christ Jesus, so that together you may with one voice glorify the God and Father of our Lord Jesus Christ.
Words of Grace For Today
What are you going to do today?
What are you going to do this week?
What are you going to do this year?
What are you up to?
Planning on robbing a bank to settle an injustice that resulted in you and many others losing their pensions because of wilful mismanagement and corruption?
Planning on visiting an old folks home to sing golden oldies with the folks?
Planning on escaping the family gathered for the holidays by going fishing out on the ice, where solitude is king?
Planning on writing a novel about the things you know best?
Whatever you're planning, whatever we're planning, what God does for us is the beginning and end of every good thing in our lives and throughout all creation, so
however we go about what we go about doing, what God asks of us is that we go about it so that God's name is praised.
Figure that in to your plans and just maybe it'll require dropping some plans or at least modifying them substantially.
As for that solitude on the ice being so great, because it is freedom from the chaos of the family gathered, well …
Paul would wish for us all that we could live in harmony with each other, so that we go towards our things to do, and not from the people in our lives.
Tall order living in harmony with some people who bring chaos and unreal drama with them wherever they go, but God asks that we do our best, and
sometimes our best is to take a break from the chaos and drama, to rejuvenate our patience in the solitude on the ice, dangling a lure on a line so that maybe we catch a fish to enjoy eating later.
Wherever we are, God walks with us, and asks that whatever and however we do what we do, we do it to give God praise.