Reasons for Rejoicing
Wednesday 8 February 2023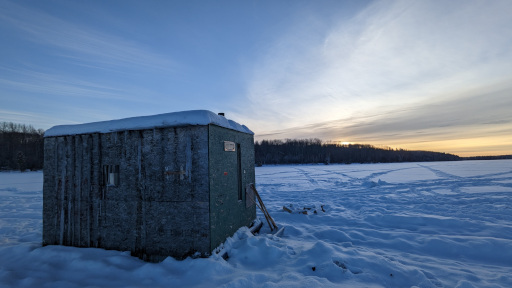 This Thing Is On Water,
Accessible Through Holes in the Floor,
Otherwise It's Just Ugly
As OSB Siding Always Is When It's Worn.
At Least The Sky Behind It Is Awesome,
Sort Of.
Psalms 33:21
Our heart is glad in him, because we trust in his holy name.
1 Thessalonians 5:16-17
Rejoice always, pray without ceasing …
Words of Grace For Today
Lots of things can make our hearts glad, like our solitude respected, the warm winter weather, the sunny skies providing great solitude, and … repairs finished to the water pump so that water now flows if we give our all to haul water and pump it where it belongs.
The wonder of life is that even if nothing is so to be enjoyed, God walks with us, and we are glad for God's presence.
Therefore we have reason to rejoice and pray always, perhaps not unceasingly since it takes a bit of concentration to repair a pump and supply water to it, for instance, but in our pauses most certainly.
Again this day.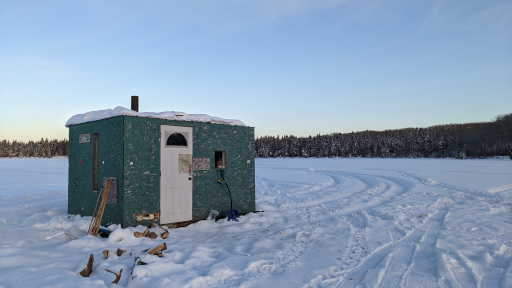 From the front
it's got character too,
and a wood stove for heat.
That's a start,
but not a home.