In The Silence
Thursday 9 February 2023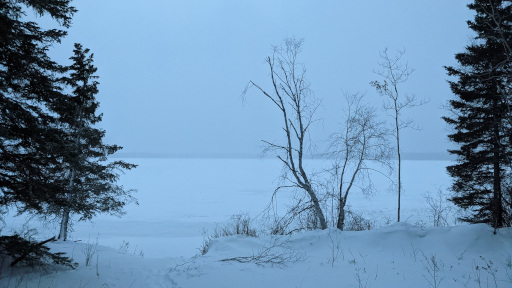 God Sees Us,
No Matter Fog, Snow, or the Darkness
of Our Hearts
–
and God still walks with us.
Zephaniah 1:7
Be silent before the Lord God! For the day of the Lord is at hand; the Lord has prepared a sacrifice, he has consecrated his guests.
Matthew 24:44
Therefore you also must be ready, for the Son of Man is coming at an unexpected hour.
Words of Grace For Today
When we are still, quiet, calm, and silent what do we hear?
The traffic pounding the pavement, going back and forth, who knows why so many of us have so many places to go, just because we can or others will pay us if we do or we have learned that we must in order to eat (the things we want to eat)?
The bells ringing across the countryside inviting people to worship, or tolling to mark the funeral of yet another person no longer breathing, or clanging in alarm as the war reaches the outskirts of this area?
The manufacturing cascade of sounds of machinery churning, pumping, grinding, and wearing themselves out before their time?
The wild music of alcohol and drug induced partying that can erupt into all kinds of behaviour and violence spilling over into others' safety?
The squirrels sounding alarm, crows cawing, an owl hooting, and the lynx silently invisibly avoiding the stinky skunks?
The ravages of a brain fully engaged in multiple tracks of problem solving stuck spinning against the slings and arrows of time?
Sometimes, not wanting to be silent is a reasonable protection from the cost of our times of industry chugging along to sustain an unsustainable life-style, nature fighting us into extinction with climate change, viruses, and fungi, and our inevitable defences of rampant escapism.
But
every once in a while for most of us (and always for some 'blessed' mystics), when we are silent, we not only hear that silent lynx, but we see that God walks with us crunching footsteps into the snow-pack.
God's day is here, with us, always has been. Best is to get used to it.
For whatever we are up to, God is up to it with us, celebrating our thinkings, sayings and doings, or suffering the same.
Smile you are on 'candid camera', God's view of us each and all, as it has been since before we were born, and even before time was created
when God consecrated us to ….