In the Fog
Wednesday, March 22, 2023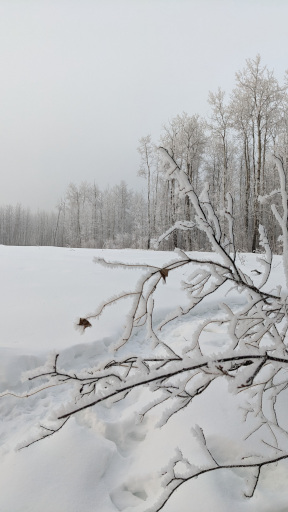 Freezing Fog Is
God's Painting
Beauty
In The Cold and Dark
Ezekiel 34:16
I will seek the lost, and I will bring back the strayed, and I will bind up the injured, and I will strengthen the weak, but the fat and the strong I will destroy. I will feed them with justice.
Luke 15:6
And when he comes home, he calls together his friends and neighbours, saying to them, "Rejoice with me, for I have found my sheep that was lost."
Words of Grace For Today
The bones are dry, dead, gone.
God assembles them.
Breathes on life into them again.
And we live.
…
The cantankerous ram is lost, yet again.
He's found by the dedicated shepherd caught in a thorn thicket, unable to free himself.
The shepherd suffers cuts and tears and blood and time … rescuing the ram from the thicket.
And then the walk home, the ram limping along, not able to fight or think of running off again.
And we celebrate.
…
The enemies are strong and attack from afar.
The powerful and rich are greedy and corrupt and rot the nation from within.
Many people suffer lives of agony without the necessities, yet with joy that God is with them. They are the winners, even as the corrupt bask in their wealth and power, for
God comes to rescue the lost, the ones suffering, the ones denied life, and the fat, corrupt, unjust, and cruel powerful and rich are brought to their knees and left destitute on this earth and still devoid of a soul.
…
These we know as surely as the fog of the night is captured in beauty in the morning light on all the tree limbs and brush of the wilderness.
So our hearts, though suffering oppression and abuse, are filled with the free beauty of God's creation and the cold of the night,
While God warms our hearts, minds, and spirits by the fire.
…
How shall we enter this day if not with unending thanks to God, and clarity of our mission to share life abundant with all people.