Will We Pack?
Thursday, March 23, 2023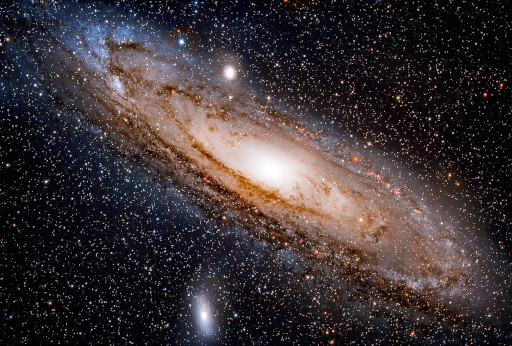 Andromeda Looks Far Away to Us,
as the Milky Way Does to Them
Psalms 65:8
Those who live at earth's farthest bounds are awed by your signs; you make the gateways of the morning and the evening shout for joy.
Luke 1:69-75
He has raised up a mighty saviour for us in the house of his servant David, as he spoke through the mouth of his holy prophets from of old, that we would be saved from our enemies and from the hand of all who hate us.
Thus he has shown the mercy promised to our ancestors, and has remembered his holy covenant, the oath that he swore to our ancestor Abraham, to grant us that we, being rescued from the hands of our enemies, might serve him without fear, in holiness and righteousness before him all our days.
Words of Grace For Today
Sotorus sat to copy his father's (Peter's) journal entry, which really was copied from Peter's father, Isaac, and Isaac's sister, Galilea, about Sotorus' great-grandparents, Doug and Dawn, from the old digital disk to his paper journal with great care.
First he wrote:
"20 June 2299: All the digital records are disappearing into thin air. Though no one knows why for sure everyone suspects it has something to do with those deadly latency rifles used to end the last war on earth. Loaded with specific human traits, the charge would sit for years, even decades, before going off when it's target came within 10 metres. Now two decades later so many people had been killed, even after the war, and the accumulation of the residue from billions of charges seemed to spread and wipe out not only their targets, but all nearby digital storage in the bio-memory chips used in everything for the last 90 years. So copying what we have as records of the past onto paper is the only way to preserve them at all.
"Albert Einstein was correct in many ways when he said, 'I know not with what weapons World War III will be fought, but World War IV will be fought with sticks and stones.'
"While explorers like my grandparents were off to Andromeda, those remaining on earth had reduced it to a thinly populated wasteland. No one had the energy or means to fight."
What Sotorus could not know was the will to fight would return in 1450 years.
Sotorus' journal entry continued with Peter's entries from 3 October 2264:
"This from Isaac's (my father's) journal of 21 March 2246:
"This is about the day in November 2213 when my grandfather and grandmother, Doug and Dawn, and a stranger, made a quick and desperately simple decision that saved my life and the life of my sister, Galilea.
"This is what I knew about my grandparents decision to leave earth. Doug and Dawn had studied the beginnings of the universe all through university and wrote separate but related PhD dissertations on the doomed first expedition to Mars in 2029 compared to the more recent successful unmanned expedition to Andromeda's closest star with planets in 2183. It was a no-brainer then when they were offered the opportunity to travel on the first peopled expedition to what people were calling the 'Andromeda Earth'. In 2210 they packed their few possessions into storage and reported to train for intergalactic travel certificates. In 2113 they launched from earth to the moon, and two days later from there to Andromeda's 'third planet from the sun'.
"Eleven months after their three month long trip to A-Earth, as they called their destination planet, they and the other 45 mission specialists, had established the core of a settlement. The rich air and moderate gravity among the most interesting lush and vibrant plant and animal life forms seemed almost a paradise. They had hardly had time to consider more than their work studying the evolution of the plant and animal life that seemed to 'teem up' from the planet each day. Yet in those years they had also had us two children.
"I had not kept a journal but Galilea had. Her journal is lost, but I remember it pretty clearly, because we sat and read it often in her last year, as she suffered dementia, common among the most brilliant minds in their later years.
"Isaac was a spunky athletic 6 year old and his sister, that's me, Galilea (Peter added, that's my aunt), well I was not yet 2 but I was up and running, reading and writing already.
"This morning, an hour before sunrise, in the dark and bitter cold, the alarm had sounded. Everyone was told they needed to report to the spaceship, refurbished, refuelled and resupplied, and waiting for such an emergency these last four years. The Aearth's crust had buckled up into a new mountain range on the far side of the planet and we had maybe 6 hours before the air would be poisonous. 'Bring no more than 150 lbs with you!' Everyone knew the fuel was not as combustible as the fuel they had used to lift off from earth so weight was indeed a problem.
"Our dad, Doug, called us children, from our studies in the 'backyard' near the river, started packing a small backpack, while Mom and us children fretted and argued about which things we could bring: a photo of our house, a rock from the riverbed that glowed at night, our computers and studies and papers, a favourite game made of wood and rocks, and my teddy bear. Finally Doug put his foot down and said we had just enough time to get to the spaceship, or we'd be left behind. With no more thoughts we grabbed only what was packed and headed off.
"At the spacepad, we registered and weighed our bags. We could have tossed in another 20 lbs. The security guard looked at us, checked off Mom and Dad's names, Doug and Dawn. Then he looked at us children, Isaac and Galilea. He asked our parents if they had weighed us? No! Did they have to? Of course! So back to the scale we went. Together Isaac and I weighed 159 lbs. We all tossed our bags aside and, with the guard telling us we were out of time- others were waiting and time was tight, we two children stripped off our clothes until the scale stood at 154.
"The next person in line (we didn't even know her or find out her name later) saw the chaos and offered to give up 10 lbs if the guard would let us children take our clothes along. A nod from the guard, a quick 'thank you! thank you!' and off we went through the gate to the loading queue as the woman behind us started tossing out big books from her case.
"Later Galilea wrote in her journal:
"Today, I'm not sure of the date, it's been so confusing, we left a whole crowd of explorers and their children on another planet in the Andromeda galaxy, at a planet everyone called 'Andromeda's other third planet from the sun.'
Sotorus, grandson of Galilea, continued his paper journal below the above entry:
"Today is the last day of this millennium, 2299. It's a day of freezing fog. We heard from many that those who lived at Aearth's farthest bounds were awed by God's wondrous signs all around them. They affirmed, and we can certainly affirm now as well, that God has shown to us all the mercy promised to our ancestors, to grant us that we, being rescued, might serve God without fear, in holiness and righteousness before God all our days.
"We can be thankful, that though the years have not been easy since the last big war, we (my two sisters, my three cousins, and I) are alive because Isaac and Galilea did not weigh more than 10 lbs too much, and an anonymous woman sacrificed her precious books for our grandpa's and his sister's lives."
Sotorus could not know then, but his journal would be only one of a dozen that would survive the next 1500 years of 'sticks and stones'. Without it no one would remember Doug and Dawn, Isaac and Galilea, Peter, or Sotorus. Nor would anyone remember that people had migrated to Andromeda and back, or that half the explorers had chosen to stay at another inhabitable planet in one of Andromeda's star systems.
…
What will we weigh to take with us today?
What out of our past given to us by our ancestors?
What of our baggage and sins and horrible mistakes?
What of our joys and hope and dreams?
What of our lives?
From the Saints?
Of our spirits?
Of our love?
…
What we choose will give or take life to more people than we can imagine, in ways only God can show us!