Who Are We?
Who The [Hell] Are We Anyway!
Monday, August 14, 2023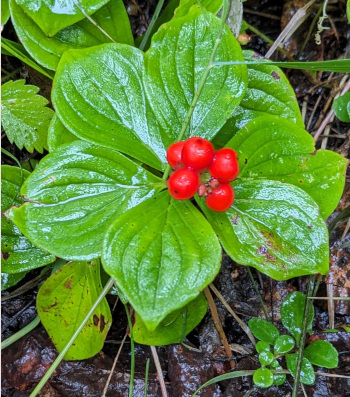 They ask about us:
are we palatable, like tasty berries?
Or are we more like poisonous berries,
bright and deadly?
Proverbs 16:7
When the ways of people please the Lord, he causes even their enemies to be at peace with them.
Matthew 5:44-45
But I say to you, Love your enemies and pray for those who persecute you, so that you may be children of your Father in heaven; for he makes his sun rise on the evil and on the good, and sends rain on the righteous and on the unrighteous.
…
Words of Grace For Today
In the tumult of today's world,
when even mother nature seems to be angry with us, challenging our ability to adapt and survive even more extreme weather and destructive storms,
when wars erupt unjustly (as always) leaving people caught between death, destruction, and displacement,
when there are so few honest people who provide truth as a measure of who one is to them,
in the tumult of this world
how are we to know who we are?
how are we to find peace, with ourselves, our world, and with others who wish to do us harm?
Today we measure mostly who we are looking within our selves, an inside view, established by ourselves. This leads to a detachment from others and from community, and more and more people are 'lost' to themselves and others. This in turn allows people of power to use, abuse, and denigrate others. In the extreme assembling one's identity mostly from within leads to narcissism.
In Jesus time people mostly measured who they were by looking outside themselves to what others thought of them. It allowed for distinctions made by powerful people to denigrate the masses as less than significant except to serve the powerful. In the extreme this leads to co-dependency, as we would call it, for those who assemble their identity nearly all from others.
Through history we humans have swung this way and that, between codependency and narcissism, finding our identity mostly with difficulty.
Always, no matter how we assemble our identity, there are ample paths to tear apart anything like peace for ourselves and those around us. Narcissists and codependents wreak havoc for themselves and people around them. Wars are begun by them, easily and often. Sometimes the wars are global, sometimes against a community, sometimes within a family, often within one person. Disruption and destruction reign.
Where is peace to be found?
How can it be that even our enemies will find peace in our presence?
This is only possible when we allow the Spirit to build our identity based on who God says we are: simultaneously pitiful sinners and, miraculously, saints.
God's peace flows around this kind of people, known by their love for others, even for their enemies. Peace flows with their love like water from the rock in the wilderness as Moses led the people out of slavery into the wilderness, their offspring lead by Joshua into the Promised Land; our ancestors.
Today who will we say we are?
Who will our actions say we are?
How will people know us?
Will they encounter God's Grace and Peace through us?
Pray the Spirit inspires us to be a bit of a miraculous saint even this day.