Just a Little Yeast
Wednesday, October 25, 2023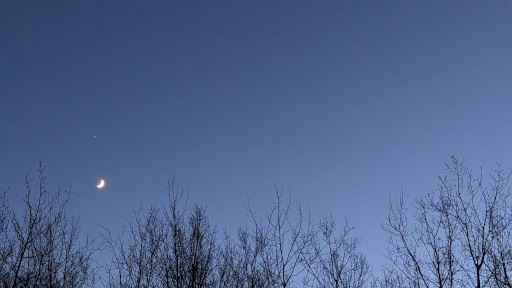 What little light can we add
to the 'crescent moon' light of other's struggles,
so that the Light of Christ shines
brightly for them as well,
and for us?
Psalm 22:26-28
The poor shall eat and be satisfied; those who seek him shall praise the Lord. May your hearts live for ever! All the ends of the earth shall remember and turn to the Lord; and all the families of the nations shall worship before him. For dominion belongs to the Lord, and he rules over the nations.
Matthew 13:33
He told them another parable: 'The kingdom of heaven is like yeast that a woman took and mixed in with three measures of flour until all of it was leavened.'
…
Words of Grace For Today
This news came Monday in the CBC newsletter brief:
N.W.T. coastal communities walloped by weekend storm
October 23 , 2023 • 04:44 PM CDT
It was a weekend to remember for people in some of the N.W.T.'s coastal communities, as a storm system brought high winds and massive, crashing waves — and people scrambled to save boats and cabins from washing away.
I read news like this, disasters that others struggle through, with a huge bit of distance in my mind and heart, until
I realize that some day for some reason news like that will be reported about this area, and I will be the one to struggle to survive through it.
The Psalmist repeats a promise often reflected in scriptures, that God will look after the poor, hungry, thirsty, and the desperate.
Matthew reports Jesus' words on how God works for the people: God works through the little works of our hearts and hands, giving aid to those in need. Just a little from one person inspires another to do something as well, and that inspires another, until the help is sufficient.
Today, how can my small capacity (not so deep in poverty as months past when I had $69 a month to live on!) to help others to bring to them what they need.
I'm not sure that those in the affected N.W.T. communities still need anything I can deliver, nor that I can deliver anything to Ukraine or Gaza or Israel or any of the other distant places where people hope against hope to survive another day, another night.
There are those who struggle just as hard living not far from us, maybe without real shelter, without anything to call 'home.'
How can I help them?
What can I do today to help them?
What I have to give is not much more than words, yet who can I inspire with a word today, as I get water, visit the library, pickup at the food bank, stop at a store where I cannot afford what I really need?
What can any of us do this day? And every 'this day' to come?