or Despair?
Friday, October 27, 2023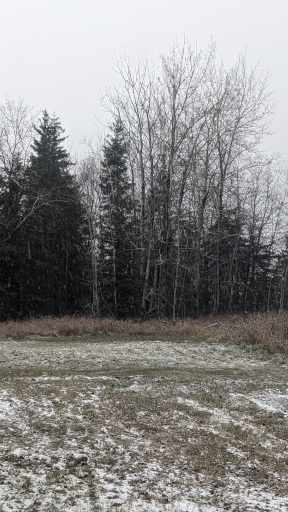 A drab morning, snow falling, making wood collecting more difficult.
Or delight in the cool that makes working outside a bit easier
than with countless bugs looking for a meal from your skin?
Psalm 27:1
The Lord is my light and my salvation; whom shall I fear? The Lord is the stronghold of my life; of whom shall I be afraid?
Philippians 4:13
I can do all things through him who strengthens me.
…
Words of Grace For Today
Courage is hard to come by when one is down and out, beaten again and again by enemies, lies, deceptions, and others' greed.
At times one has to agree with Thomas Hobbes when he said about life being 'solitary, poor, nasty, brutish, and short'.
God answers that and all our other despairing with a simple reassurance: God is with us through it all.
Like walking in a sunset alone, still unable to do anything but despair how tough life is, 'going it alone' is always a recipe for struggles without end.
Like walking in a sunset with a loved one, the experience grows beyond itself to convince you two that life is a wonderful, marvellous adventure, with promise unending of things good and better.
So God walking with us through it all, turns life inside out with joy, delights, and hope.
And when God walks with us, we need not be overcome with fear of yet another enemy taking more of life from us, for even if that does happen, God will show us how to find joy and delight in all that life is for us.
Today, as the snow falls again, and then hard cold of winter is coming, the joy is in the warmth provided by a hot fire in the wood stove, held close by many insulated tarps. It may not be much, but it is as much a home as I have, and in it I find endless delight even as the challenges never cease to more than fully occupy my days.
So what will we see today? The enemies efforts or God's Grace and delights for us?