Or Coming Together?
Tuesday, November 14, 2023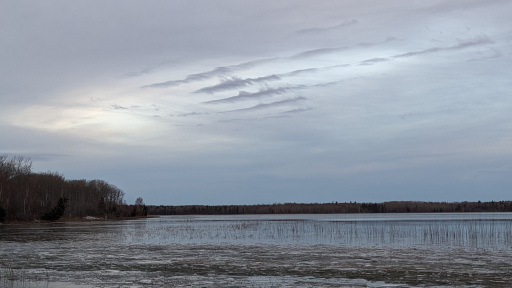 Are These Just Clouds,
Or a New Kind of
Stealth Bomber?
Isaiah 57:16
For I will not continually accuse, nor will I always be angry; for then the spirits would grow faint before me, even the souls that I have made.
2 Corinthians 5:18-19
All this is from God, who reconciled us to himself through Christ, and has given us the ministry of reconciliation; that is, in Christ God was reconciling the world to himself, not counting their trespasses against them, and entrusting the message of reconciliation to us.
…
Words of Grace For Today
God, with steadfast love and mercy deals with us sinful lot of people, sending Jesus to save us, and entrusts to us that message of reconciliation. "You saved sinners-made saints: Share the Good News!"
What Good News is there to share today?
Peter Armstrong wrote in his weekly Mind Your Business Newsletter for CBC: "There's an old joke that Canada's economy is really just some banks, telcos and energy companies in a trench coat. But that doesn't factor in the real estate industry."
Lately, of course, we've heard a lot about consumer buying, fuel prices and taxes, interest rates and so many choosing between housing and food, while still living in houses and eating enough to not starve. Which is to say the degree of pain is sometimes locked into a standard of living that many in the world would gladly almost achieve, yet alone be able to continue in. But we are talking about losses in the face of inflation (economic manipulation by the wealthy at it's heart) and not how good we expect life in Canada to continue to be. So all is well, right?
Maybe not at all, not at all.
Then Armstrong, commenting on a TED talk by the Irish economist David McWilliams, writes:
McWilliams "says a normal economist would come armed with charts and graphs and maps, the tools of his trade.
'But I'm an Irish economist, so I'm only going to come here armed with some lines and verses of poetry,' he says.
He starts by quoting the (Irish) poet W.B. Yeats. The Second Coming was written in 1919 and it famously describes a world falling apart:
'Turning and turning in the widening gyre
The falcon cannot hear the falconer;
Things fall apart; the centre cannot hold;
Mere anarchy is loosed upon the world…'
Remember, this was written in 1919. The Great War was over, peace had been restored to a weary world. And yet Yeats saw trouble.
McWilliams says all the economists back then were saying the world would go back to normal and everything was finally going to be OK.
Within a few years, Benito Mussolini was in power in Italy. Joseph Stalin was on the rise in the Soviet Union and Adolf Hitler had just staged a putsch in Munich.
"So what's always bugged me is, why did the poet get things so right at a tipping point, and the economists get things so wrong?" asks McWilliams.
He says the artists, poets and musicians always seem to give themselves permission to think differently.
The TED Talk was done in Vancouver, so he quoted the Leonard Cohen line about how there's a crack in everything, and that is how the light gets in.
'What Cohen was saying to us was, "Look for the cracks, look into the cracks." That's where we'll see the big picture,' he says.
McWilliams says we are in a precarious moment in the world. And this TED Talk was done in April. The world has grown immensely more precarious since then.
He says at moments like this, the institutions risk falling into groupthink and confirmation bias.
'So my idea, that I think is worth spreading, is the following: if you want to understand the world a little bit more clearly, listen less to my tribe, the economists, and listen to Yeats's tribe, the poets,' he says to thunderous applause.'"
Russia invades Ukraine and destroys countless lives. (Our inflation losses do not compare.) Hamas attacks Israel, kills and kidnaps civilians including children. Israel responds killing thousands and thousands of Palestinians as Hamas uses civilians, hospitals and schools as cover over their tunnels. Iran threatens to enter the conflict. The US already is in the area using it's military on select targets in neighbouring countries.
Interest rates at home should be stable for a year, maybe. Maybe they will go down next year or soon thereafter. Maybe they will rise. Some food prices have dropped. Before this mess Silk (soy milk) sold for $3 for 1.89 litre. It rose to $5.50 at the highest with 'special sale' prices of 2 for $8.5. Then the sale price dropped to 2 for $8. Costco brought in 3 for $9 something. Now the price is dropped to 2 for $7.50. Something for us who pay the premium compared to milk, which we cannot consume for health reasons.
Where is the good news that is not false good news?
It takes starting with noticing that the real problem is our sinful ways that bring evil on others. That is at the bottom of all the other real bad, ugly evil, problems that we face in these days.
Poets see beyond the economics.
God's saints see (enabled by the Holy Spirit) beyond the poets.
Thankfully we have God's Word and Promise: God's love is steadfast and his mercy endures, for each and all of us.