Or Dance?
Wednesday 22 February 2023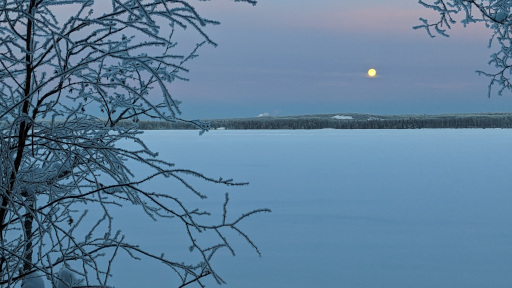 It's Cold.
It's Dark.
It's Frosty.
It's Brambles even!
It's Just the Moon.
And It's God's Gift of Beauty
For Us Again!
Jeremiah 20:13
Sing to the Lord; praise the Lord! For he has delivered the life of the needy from the hands of evildoers.
Luke 1:46-48
And Mary said, 'My soul magnifies the Lord, and my spirit rejoices in God my Saviour, for he has looked with favour on the lowliness of his servant. Surely, from now on all generations will call me blessed;'
Words of Grace For Today
The world is in trouble, and it appears more dire than ever before. War, Climate Change's storms and upheavals, Nature's Fight Against Human Overpopulation with Disease new and old, More and More Lies and Deceptions that Polarize Populations into Chaos Making Room for Fascist Rulers, Greater and Greater Inequity Between Peoples, Swings for Correction like Me-Too that have become just as destructive as the horrors they try to rectify, and on goes the list!
And personally for us all. I'm sure that you have your own list of disasters just waiting to blossom like nuclear mushrooms in your life, just as I do: thanks to a justice system gone amuck, and drugs and greed bending weak minds towards homicidal endings of me like I've never encountered before.
So why should we sing thanks to God?
Like Mary, when God steps into our lives in a visible and undeniable way it usually does not produce wealth, power, and privilege the likes of which we've only dreamed. On the contrary it usually brings great hardship to our mornings, noons, and nights.
So how on earth are we to sing God's praise for all this?
Simple. Start by recognizing that the everything we are and have and can do, starting with breathing, is a gift from God – that we invariably mess up – and that we only continue to breathe at all because God's wondrous Grace and Love reach out to us to forgive us and give us new life, as God has done for all the needy in every generation …
no matter what comes our way, or we throw in our own way.
So sing, and give God praise, and dance a jig of thanks
again this day.
And breathe, wondrously.