Sigh, Again
Thursday, November 9, 2023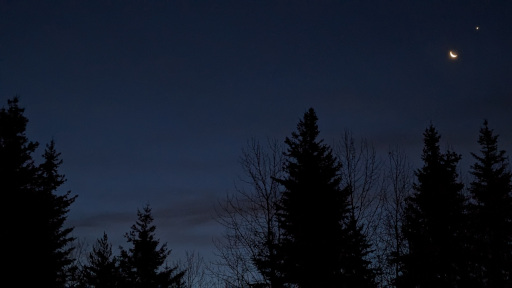 Morning Arrives,
The Crescent Moon Accompanied by A Star,
a helper light,
which is actually the planet Venus.
Psalm 31:23
Love the Lord, all you his saints. The Lord preserves the faithful, but abundantly repays the one who acts haughtily.
Romans 8:26
Likewise the Spirit helps us in our weakness; for we do not know how to pray as we ought, but that very Spirit intercedes with sighs too deep for words.
…
Words of Grace For Today
The challenges of every day are more than enough to dampen our energy available to even cry for help to God. How does one pray when one's loved one is gone, one's world is ripped out from underneath one, and even in the morning the light does not help clarify where or what one really ought to do?
How does one pray when one's home is destroyed and one survives only because one was away that day, working on a project that required it? Where does one go?
How does one pray when rumours, nasty and dirty rumours, are spread by deceitful, arrogant, fearful, cowardly bullies, and they grow so intense that people want to kill you?
How does one pray when everything seems to be okay also this day and yet your heart tells you that your life is doomed, maybe the whole world's, maybe just those you love and all the honest and good people (if there are even any of those left!)?
When our light has been snuffed out by the chaos and hatred of people lost in their own darkness, we are not abandoned.
The Holy Spirit, with sighs too deep for words, blows in again as a fresh morning breeze, reviving us, and giving us the words for our prayers,
the priority of meaningful tasks for this day,
and a direction for our lives, even as we walk yet in darkness.
Like a sliver of a moon, with a companion star, walking the sky as the morning sun pushes back the darkness in the east, God winds us through our days, sometimes with just enough light so that we do not stumble
too often
and we can find once again
the light by which to love
even those who want to be our enemies.