Saturday 26 November 2022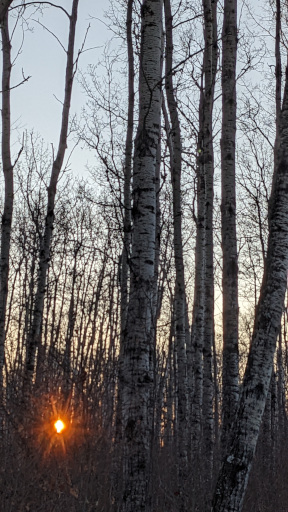 The Sun Rises through the scrub beneath the trees, beginning a new day.
God never 'sets',
but walks with us,
always.
Psalms 116:9
I walk before the Lord in the land of the living.
Luke 20:38
Now he is God not of the dead, but of the living; for to him all of them are alive.
Words of Grace For Today
There are so many times in life when I have been surprised that others do not experience reality clearly.
The confirmation class where others seem to have not the slightest clue what the pastor was talking about most of the time, most often when I would engage him in a serious question.
The step-daughter who always accused me of doing things I had never done, so I wrote up an exchange we had where she had blown up at me. She agreed that what I had written was not wrong, but it was not right because it did not include what she felt. Her accusations were that I was responsible for what she was feeling, even though I had next to nothing to do with what her emotional state was. Her birth father had favoured her among the children and then killed himself, leaving her confused and angry. That anger got directed at me, her step-father. The result was the reality she lived was often quite disconnected from what actually took place.
People in so many different congregations and synods who played power games, participated in church, prayed for forgiveness and reconciliation with those people they saw as enemies (who certainly were not of the view that they,themselves, -those people – were 'enemies' of anyone,) and then they would return to their games of false accusations, scheming and disruption of congregational life.
The many people who come to the lake to drink and get high, seemingly unaware of the holy ground they tread upon.
The closest analogy I've found comes from being a professional photographer. I see photos all day long, especially at sunrise and sunset, or in storms, or any time the light is spectacularly specular. I've spoken with people who can point a camera (well a cell phone, so now everyone has a pretty good camera!) at the world to capture at best a snapshot of trees, lake, and blah, and not even notice that 2⁰ to the left there is a splendid photo waiting maybe only two minutes to be taken before it disappears.
Do people, likewise, go through their days, not seeing God among the living, thinking that God is only for us after we die, and God walks among the dead of all time?
Luke puts it straight:
God is not of the dead, but of the living; for to him all of them are alive.
Let us walk this day, knowing that God walks with us.
Or is that something that others cannot experience? Scripture gives plenty of witness that many people have lived, knowing God walked with them.
So this is reality, and reality worth living for.